Sustainability
Anthony believes the investment in a cover over his dam, specific mulching practices and using moisture monitoring probes, are the keys that help him manage water use effectively in his vineyard.
The covered dam provides the vineyard with a year's water supply 'on hold', with the option of purchasing water in the 'off-peak' season at low prices. In addition to this security, once the water is in the dam it is not lost to evaporation. It is estimated without the cover, the dam could lose up to 6 ML per year. Because the evaporation has been reduced not only does this provide a tangible cost saving but it has also reduced the level of salinity in the dam water held in storage.
Annual covercrop (triticale) is side thrown under vine at the start of the growing season. This provides a good source of mulch incorporating nutrients back into the soil while preserving soil moisture.
A Diviner 2000 soil moisture sensor is used to optimise the frequency and volume of water applied. This is just another tool in Anthony's tool box to make sure the resources going into the vineyard are used to maximise their benefits.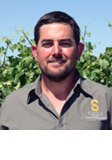 Coping with heatwaves and vine stress
In the 2007/08 and 2008/09 growing seasons extreme heat waves occurred across the grape growing regions of SE Australia, including the Barossa, Clare and Southern Flinders.
Anthony Scholz discusses the ways in which Scholz Estate attempted to minimise damage to their vineyards.